Paper or Canvas Prints
Artworks can be printed on a very high paper quality or on a mounted canvas. For more info go to Jewish Art Prints page.
---
Acrylic Block
2 different sizes. 1 inch (2.5cm) thick solid free-standing acrylic block for desk, table top or shelves.
---
Floor OR Throw Pillow
1 size for the Floor pillow and 5 different sizes for the Throw pillows.
---
Modern Clocks
Choose between frame and hands color. Usefull housewarming gift.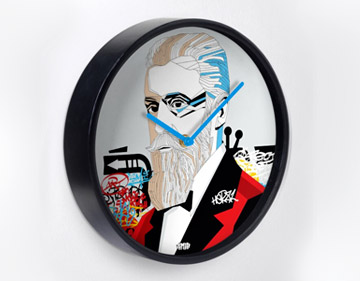 ---
Aprons
Modern printed polypropylene with plexiglass face. Usefull housewarming gift.
---
Tops
Unisex and for all ages
Others
Gift ideas